Episodes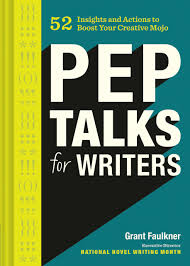 Wednesday Nov 01, 2017
Wednesday Nov 01, 2017
Grant Faulkner whose new book is Pep Talks for Writers: 52 Insights and Actions to Boost Your Creative Mojo (Chronicle). Grant is a very busy man this week. He is Executive Director of National Novel Writing Month, or NaNoWriMo, which begins on Wednesday, because Wednesday is November 1st. If you aren't aware, NaNoWriMo is (as described on their website, NaNoWriMo.org): "a fun, seat-of-your-pants approach to creative writing. On November 1, participants begin working towards the goal of writing a 50,000-word novel by 11:59 PM on November 30. Valuing enthusiasm, determination, and a deadline, NaNoWriMo is for anyone who has ever thought about writing a novel."
As promised, I'm offering multiple Write the Book Prompts this week. And the next two are from Grant Faulkner's new book, Pep Talks for Writers: 52 Insights and Actions to Boost Your Creative Mojo. These might be of particular value if you are participating in NaNoWriMo this November.
First, Set a Goal. Set a Deadline. "This is the big moment. Map out your writing goals-big goals and all the milestones that lead up to them. Pin a piece of paper with your goals over your writing desk. Tattoo them on your arm if need be. Set deadlines on your online calendar-with reminders. Form a strategy of accountability and enact it." That is from Grant's sixth pep talk, "Goal+Deadline=Magic."
His seventh is titled "Embrace Constraints," and it's in this pep talk that he explains writing sprints. So here is one more for you: "Explore the creative power of limitations. Set a timer for 15 or 30 minutes and push yourself to simply dive into your novel wherever you can. This strategy is similar to the Pomodoro Technique, a time management method that breaks down work into intervals separated by short breaks. Bursts of focus with frequent breaks can improve your mental agility."
Good luck with your work in the coming week, and please listen next week for another prompt or suggestion. And if you're planning to participate in NaNoWriMo, good luck! Go for it! And don't forget that the organization offers lots of support at nanowrimo dot-org.
Music Credit: Aaron Shapiro